Artistic Wire, Tubular Metallic Mesh
This permanently colored copper wire of Artistic Wire has been woven in a hollow mesh tube. The mesh has been flattened and can be stretched, filled, twisted, and so on. And with dune beads' seed beads you will create marvels.
Tips:
String beads on cabled wire and weave them through the tube – crimp and finish-off
Shape in free form and fill the tube partially with beads – string a few beads over the net as to close of the section – fill the next section with beads – repeat until desired length – crimp and finish-off
Variation: instead of filling the section with a number of small beads, use one big bead
Shape the mesh in sections and twist it a few times after each section - wind a piece of colored wire* neatly on the twist – put a pendant in the middle – repeat, crimp and finish-off
*Maybe in a contrasting color.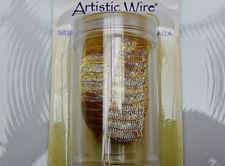 Tubular mesh, copper wire – Artistic Wire – width: 10 mm – color: gold-plated – blister package: 1 meter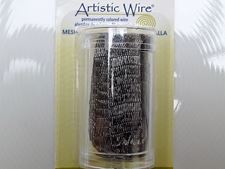 Tubular mesh, copper wire – Artistic Wire – width: 10 mm – color: hematite – blister package: 1 meter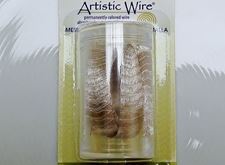 Tubular mesh, copper wire – Artistic Wire – width: 10 mm – color: silver-plated – blister package: 1 meter